Permission granted on January 9th 07, to Dr. Colette M. Dowell by Sylvie Květinová, Administrator for EAA,
for reprint on Circular Times Website.
THE EUROPEAN ASSOCIATION OF ARCHAEOLOGISTS - (EAA)
has written an article on their website about Semir Osmanagic and his hoaxing of pyramids.
SCIENCE MAGAZINE HAS WRITTEN ANOTHER ONE ALSO.
Statement by the European Association of Archaeologists (EAA)
EAA Supports Professional Archaeologists in Bosnia-Herzegovina
[Allocating for authentic excavations sites and Museum, but denouncing Semir Osmanagic. CMD]
Note: There is a longer version for members to read on the EAA.
"Following a visit to Sarajevo by the President, Secretary and Administrator, the EAA affirms its support for the small community of professional archaeologists in Bosnia-Herzegovina and urges the authorities, both cantonal, federal and state, to uphold the standing of the profession by providing adequate resources for museums, rescue archaeology and heritage protection, and to withdraw all support for the absurd "pyramid" project which is attracting world-wide media attention, misleading the public, and diverting political support and resources from the real issues of protecting and restoring Bosnia- Herzegovina's authentic and endangered national heritage."
MORE OF THE ARTICLE IS AVAILABLE FOR EAA MEMBERS AT http://www.e-a-a.org/
YOU MAY CONTACT THE EAA AT eaa@arup.cas.cz
The EAA published an open letter addressing the Bosnian Government against Semir Osnamagic
and his delirium of pyramids in the Visoko Valley.
Open Protest Letter to the Bosnian Government

December 11th, 2006
"We, the undersigned professional archaeologists from all parts of Europe, wish to protest strongly at the continuing support by the Bosnian authorities for the so-called "pyramid" project being conducted on hills at and near Visoko. This scheme is a cruel hoax on an unsuspecting public and has no place in the world of genuine science……."
PLEASE READ THE ENTIRE DECLARATION http://www.e-a-a.org/statement.pdf
Courtesy and source: The European Association of Archaeologists (EAA)
An article by John Bohannon in Science Magazine was posted on December 22nd 2006. For a brief summary of the article denouncing Bosnian / American, Semir Osmanagic, and talking about the issues involved with the EAA and the critical hoaxing and colossal fraud Semir Osmanagic is creating with the 'phony pyramids' with the aid of knowingly volunteers, paid employees, interested economical parties and politicians creating an extreme atmosphere of ill will out of line with the goodwill and intent of Scientific and Ethical Archaeology. You must be a subscriber for the whole article, but for a brief summary of the article you can click:
http://www.sciencemag.org/content/vol314/issue5807/index.dtl
Scroll down until you find NEWS OF THE WEEK:
Researchers Helpless as Bosnian Pyramid Bandwagon Gathers Pace
by John Bohannon 22 December 2006
Vol 314, Issue 5807, Pages 1837-1945.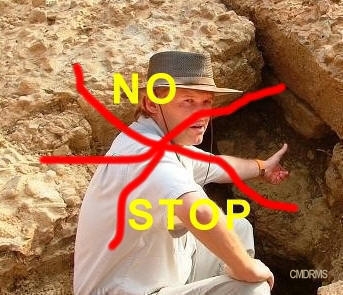 You can help stop Semir Osmanagic
by spreading the word about the hoaxed pyramids
in Visoko, Bosnia.
There has been discussion on how to stop Semir and his excavations. One thing that is important is to help educate and spread the word that there is deception and misleading marketing for fake pyramids in Bosnia. Go to Bosnia for the real beauty of Bosnia, not the phony pyramids. Bosnia is well worth seeing and has many wonderful places to go. Help stop the heart ache now for positive Bosnians and others who want this to end. Just spread the word about - Visoko - and the phony pyramids. Educate others about the fraud and help them understand the situation by directing them to credible scientific sites and not read the propaganda on the Foundation's site or others who support the pyramid scheme. It is malicious and stealing money from the naive and vulnerable, (foreign church organizations and middle-school to junior college level children) and is hurting many people. I have read many message boards, even the anti-believers are ripping at each other's throats and arguing. This pyramid scheme has caused nothing but bad feelings to many, but made money for few while costing others their savings, labor, heart and soul under a false belief they are doing something good. That is really bad. I hope that credible scientific journals continue to publish reports on Semir Osmanagic and the damage the excavations are doing to authentic artifacts and fossils in the underlying soil.
<![if !vml]>

<![endif]>

An International Networking Educational Institute
Intellectual, Scientific and Philosophical Studies
Copyright © 1995, 2005, 2006, 2007
Dr. Colette M. Dowell, N.D.
Angela Praxter - Professional Assistant
Website Design for the previous Official Website of Dr. Robert M. Schoch and Circular Times
and all contents including but not limited to text layout, graphics, any and all images,
including videos are Copyright © of Dr. Colette M. Dowell, 1995-2007