Dr. Robert M. Schoch & Dr. Colette M. Dowell
Exploring New Discoveries of Ancient Civilizations:
Mysteries, Science and Culture
COMMENTS
We are grateful for the kind letters we have received.
Below are a few excerpts from some of them. To be able to present information that gives others pleasure, inspires and enriches their minds is a wonderful feeling.
Thank you very much. Colette & Dr. Schoch
ďI spent Saturday & Sunday attending the first of the "Lecture Series" at the Museum of World Treasures (see attachment from Sunday edition of the Eagle). I was surprised that Wichita and the Museum managed to attract the highly prestigious Dr. Robert Schoch and Dr. Colette M. Dowell. Personally, I highly respect and closely follow the studies of these remarkable individuals. For me, the lecture was the greatest thing I've attended in my 15 years in Wichita. Speaking for myself and many others, we were excited to have this opportunity and look forward to, and will continue to attend future Lecture Series Events. The reason I write you, is to recommend Cessna's support for the Museum & the Lecture Series. " Cessna Staff Member
* * Please note that the caption on the newspaper clipping concerning the photograph is incorrect. The illustrated artifacts were newly acquired by the museum, but they were not brought by, nor acquired from, Dr. Schoch.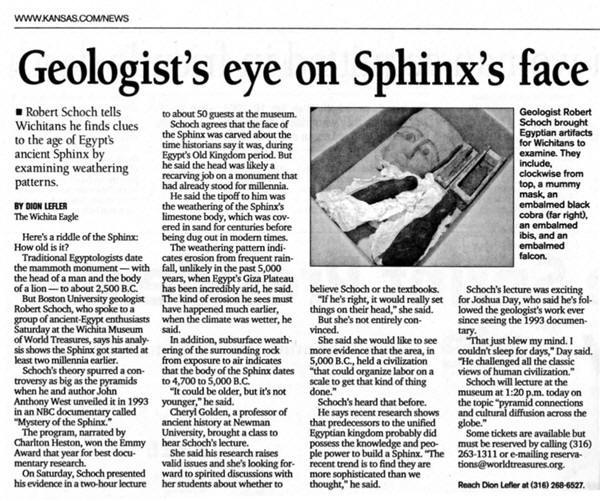 Photo Courtesy: The Wichita Eagle
"Based on your collective intelligence and groundbreaking, open-minded and extensive works, I always wanted to meet you both but knew that was probably never going to happen. So when it did, I was wholly ecstatic and completely unprepared! Iíve thought about you two quite a lot since then, and really just want to say thank you again.
It is so refreshing to meet minds that have not stagnated in the slow moving waters behind the dam of scientific bias. Personally, I want to ride a flood wave over the edge, crash into the jagged rocks of exploration and wonder, and surge forward through valleys unknown! Ok, thatís a cheesy analogy, but I think it kind of fits, (and I thought it might make you smile). J I look forward to seeing you again someday. Maybe England next year eh? How exciting!" Joshua D. - Airco Group
ďWe were all happy we got to see your presentation, even though you were pressed for time. You did a great job showing the parallels, intermingling and evolution of ancient cultures. Your information confirmed some of my theories and expanded the scope and magnitude of it all, just wish it would of lasted days, not minutes. I also very much enjoyed Dr. Schoch's lecture - absolutely fantastic to see it in person and get more info.
It blew me way, that in such a short amount of time you & Robert showed me some things I've never heard of, or seen, you guys rock! Maybe like Robert, I began research on Egypt, except in architecture and building techniques and then ended up looking at the similarities of it throughout ancient cultures on a global scale, what a trip! I'm excited to see Robert heading in the same global direction. Between the two of you, I can't wait to see what unfolds, you guys are a great team and are going to rewrite history. ď Bruce B.
CLICK HERE FOR PAGE ONE OF PHOTOGRAPHS OF ARTIFACTS AND OTHER THINGS:
BACK TO ORIGINAL ARTICLE ON THE MUSEUM OF WORLD TREASURES EXPERIENCE:
<![if !vml]>

<![endif]>

An International Networking Educational Institute
Intellectual, Scientific and Philosophical Studies
Copyright © 1995, 2005
TABLE OF CONTENTS

The Official Website of
Dr. Robert M. Schoch, Ph.D.
Copyright © 2003, 2005
Dr. Robert M. Schoch & Dr. Colette M. Dowell
Angela Praxter - Professional Assistant